Sam Once Rescued a Blind Bloke at Sea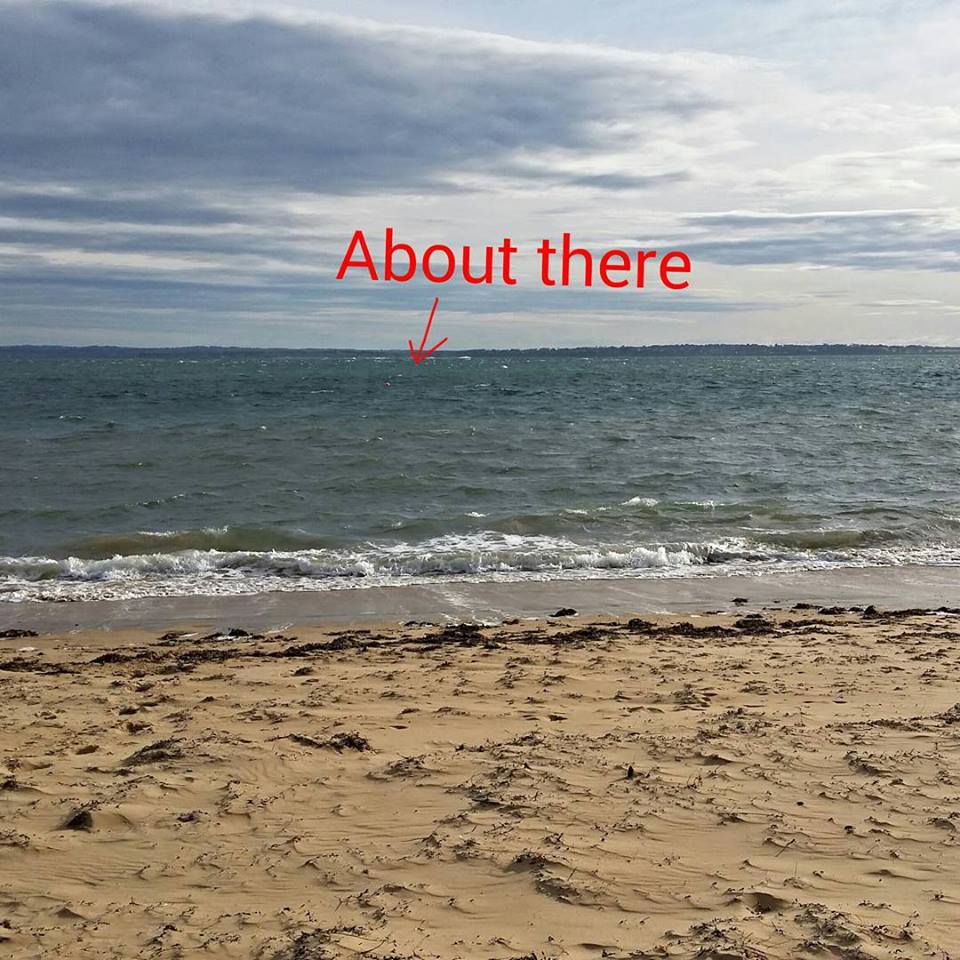 Part 1 of 3.
I'm washing the dishes after a classic nachos nosh with Paula and daughter Isis when our neighbour Lauren txted asking if we could hear someone yelling for help. Sure enough from the backyard you could hear that eerie call. I'm straight into my 3 plugger Dad thongs, Paula hands me our favourite whacky stick and I'm jogging toward the distressed male voice on the fortunate lack of wind as we wouldn't have heard him otherwise. 
I thinking I'd be smashing a window to hop into a house to save a fallen elderly person. But as I'm pelting through the dark streets it dawns on me that it's coming from the beach. I fang through the bush and dunes and enter the scene on the shore of about 6 people crowded around the high beams of a 4 wheel drive pointing out over the rocks into pitch black sea. His voice still wailing into shore. 
I spot a young boy sheepishly holding a blue foamy learner mal and I figure stuff letting that kid go, I've got the Rocky theme song going in my head from the half kilometre jog, plus I'm old and smelly and have had a pretty good innings. And this is the point in the rescue scenario where everybody should please press stop on the inner hellperson soundtrack and think. I did. As I handed my dialling phone to a random strsnger I noticed that Paula had txted that 000 had been called and on their way so knowing this I figured emergency services weren't too far off. What I have to stress is that the reason I couldn't stand by is that if that voice trailed off into the darkness it would have haunted all of us standing there on the beach till our dying days. 
So I stripped to my grundies, strapped on the legrope, adrenaline pumping and that constant call for help as my only guide. 
To be continued as Instagram won't let me talk the lid off an iron pot... ("About there" is where the guy was sitting on top of his capsized tinnie in the dark in 12°C water/10°C outside. 
I know it was past the red bouy because when we were paddling in, what I thought was another rescuer with a glow stick in his gob turned out to be the light from the torch in my chattering teeth reflecting off it.)
Part 2 of 3.
After this quick photo shoot, I hit the water. It was a bit nippy. Fortunately the cup of concrete the beach crew handed me was enough to keep me warm. They'd be the ones telling emergency services which way this idiot paddled and regaling to Paula how incredibly stupid I was, but just slightly reminiscent of any of the James Bond, especially George Lazenby. 
Those foamy learner boards really glide through the choppy waters but it still seemed to take forever to get even slightly close to him. I didn't look back cos it's like looking down from a height I reckon. I figured just get to him and suss out his mischief. 
Seeing his silhouette turn to features was a welcome view. I tried to use my calm voice to at least chill myself out as I sidled up next to him. I asked if he was alone and he said "I'm blind!" Yes I nearly clocked him in the noggin cos yes I thought drunk, that's just perfect. But he instantly assures me "Blind, I can't see." So I quickly fleece his wallet and draw a penis on his forehead for not having a life jacket on. I ask is he alone. He says his mate swam to shore to get help. For a second I thought dead body floating but I couldn't see anyone with the pissy torch.
I'm just 60kgs of wafer thin sex machine and he's approx 90kgs of blind man wearing jocks and a long sleeve tshirt. But he can move and he has hope and the will to live. He clambered aboard and I face planted into his cloaca and started us paddling to shore. 
There was only the headlights of the 4x4 and a few torches for bearing. Luckily I didn't tell a blind man to swim for the light as that may have felt foreboding. But as my limbs were going numb I felt what must've been hypothermia saying "How ya garn?"
I slipped to the back end and kicked like nothing else as old mate's arms are chugging along nicely. I'd yell just right hand occasionally to correct our steering. 
Halfway home of maybe a 200 metre stretch, the sound of the jet ski was bliss. He sidled up to us and we got ol mate onto it and they hurled to shore. When the jet ski stayed on the beach I literally thought of Mick Fanning's photographer who got left in the water.
Whatevs ayyyyyyy!!!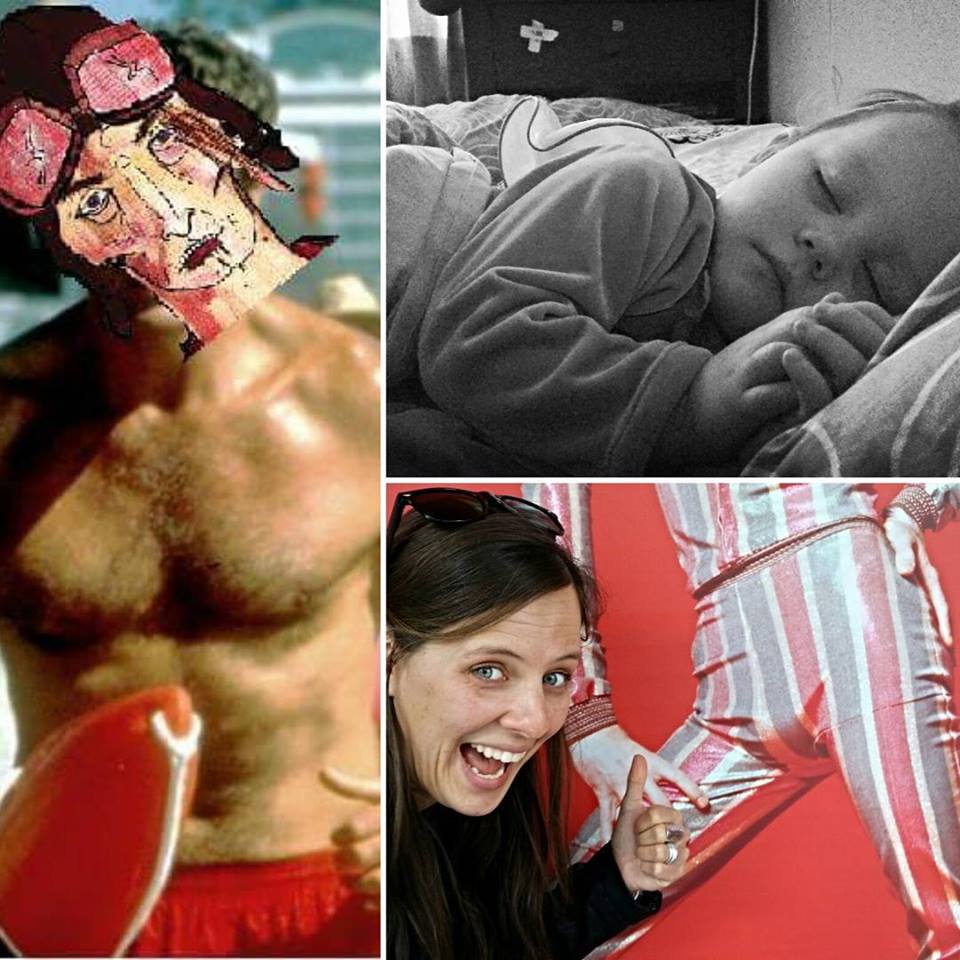 Part 3 of 3.
With the last bit of concrete still warm in my belly, I paddled to shore, handed the board back and did some push ups. By push ups I mean fell on all fours because I was numb as something really cold and in need of a nice cuppa tea and a biscuit.
Some legend handed me a towel and a doona and another person guided me to my clothes. All I could think was keep moving and get home to a shower to thaw out. It's funny what goes through your head in life threatening situations. Self preservation ranks highly but also random stuff for me like "let's hurry this up so I can get home and read my mate @drandallblythe Dark Days book (that's no bullcrap cos I just read the first chapter and I struggle with the English language as you know)" & "I can't wait to have brekkie tomorrow" to "man, ol mate is covered in petrol, I wonder if we are getting high?" Like literally anything to keep the mind occupied from the grim reality possibly facing us. Isis and Paula shot straight to the front of my mind particularly at the moment when the bouy appeared all too slowly. I thought "I'm not very bright am I..? Paula is going to kill me if this water doesn't."
Which in all seriousness is a good point. Whilst I have you for my 15 seconds, please don't do what I did. I only did it cos I weighed up my options for survival coupled with the surrounding support teams gathering rapidly. It was a group effort to rescue that guy. It wasn't just me. We got lucky. It could have been tragic. 
I apologise to the Police and emergency services for potentially making their lives more difficult. I know I'd be cussing me out for being a dingbat if I was them. The first thing I thought upon entering the scene was "I've got this." I was confident to at least get to the voice and keep his hope alive and his head above water. The rest was up to the community. 
Spare a thought for how rescue can come in all shapes and sizes. Go out and volunteer for your local community fire brigade, SES, even help out at your old folks home. Do something, anything for someone else without want or need of repayment. Make it a good world. Pull your finger out.
You are visitor number: 535